How May We Help You?
Our caring and competent team can assist you in all your catering needs whether it's an early morning breakfast meeting, a power luncheon or a working dinner we here at Snow Queen are able to meet all your requirements.
Any combination of breakfast items can be delivered to your office, sports venue or home and we will also take care of any set up requirements leaving your valuable time free to focus on clients, team mates or family and friends.
Our lunch options consist of hearty soups, homemade Chowder, fresh Salads, and wholesome sandwiches. We also have a delicious selection of house made sweets or desserts.
Our dinner selection offers many homemade options see our menu for options.
Our services include coffee machine, Coffee packets (medium roast and decaffeinated), filter tea packets, cups, stir sticks, creamers, milk, sugar and sweeteners. In addition we have a wide range of beverages to choose from as well.
All of our menus can be customized to ensure that they are suited to your specific needs and we have two service options to choose from; Self Service where we deliver to the site, provide setup, dishes, trays, warmers, utensils and napkins or our Full Service option where we deliver to the site, and include attendant/s to serve your staff or guests, set up. With both options we take care of the Clean up as well.
A 15% Service Charge will be applied for Full Service and is not included in the pricing.
We also do Box Lunches for work crews, emergency workers and bus tour groups.
Trays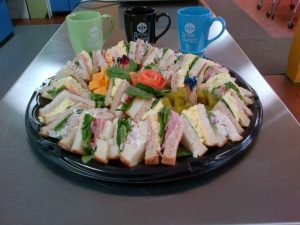 Trays are the first thought when it comes to office meetings, corporate events, showers, anniversaries, the weekly book club or an informal get together and we offer various tray choices for consumer pick up or we can arrange drop off at your desired location.
Our tray choices include- Sandwiches, wraps or a combination of both accompanied by a selection of cheese, fruits, vegetables and pickles.
We service sport teams for breakfast, lunch or dinner and we welcome Bus Tours to dine from our full menu.